Best Herbs to Treat Menopausal Symptoms
If you're a menopausal woman seeking treatment for your symptoms, it's time to think outside the box. Beyond pharmaceutical options like HRT and bioidentical hormones are herbal remedies that have been used by women for thousands of years. But which herbs are the best bets to bring you menopausal relief? Read on to find out.
Choosing the Right Herb
The secret weapon of popular menopausal herbs is phytoestrogens, plant-based estrogens that mimic the effect of naturally-occurring estrogens when introduced into the female body. Phytoestrogens work to restore hormone imbalance by blocking estrogen when levels are high and replacing estrogen when levels are low to support the body's natural processes.
Additionally, herbs for menopause contain essential vitamins, minerals, proteins and other nutrients that can help curb specific menopausal symptoms. Keep these herbs in mind to treat menopausal symptoms:
1. Dong quai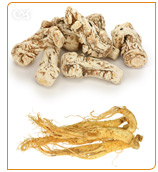 This herb's main benefit is that it helps regulate diminishing estrogen levels which are often the cause of a host of uncomfortable symptoms in menopausal women. Reported benefits have included relief from hot flashes, night sweats, fatigue and vaginal dryness.
2. Red Ginseng
Ginseng supports the female body in two ways: through phytoestrogens and ginsenosides, compounds that increase stamina and energy levels in women. Thus the herb acts as a stimulant and can be used to treat fatigue, mood swings, low libido and vaginal dryness.
3. Black cohosh
Although the way black cohosh works in the body continues to be a mystery for researchers, this herb was traditionally used to treat female sexual problems in Native American women. Now, menopausal women champion black cohosh as a treatment for hot flashes, night sweats and mood swings.
4. Soy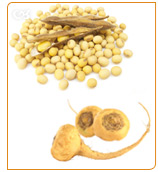 Soy contains isoflavones that help promote bone density and prevent fractures and breaks, two things that are critical for aging women at risk for osteoporosis. The herb also contains estrogen-like compounds that treat general menopausal ailments.
5. Macafem
Macafem contains a special selection of Lepidium meyenii, an herb that encourages the body's natural production of hormones by nourishing the endocrine system. It has been championed by women as a treatment for symptoms like moodiness, fatigue and low libido.
Recommendation:
While phytoestrogenic herbs are generally considered a safe and natural alternative to pharmaceutical options, they do carry their own side effects. Non-estrogenic herbs like Macafem, which encourage the body's own hormone production, are thought to promote long-term health and well-being. Click here to read more about non-estrogenic herbs
Sources:
• University of Maryland Medical Center: Dong quai – http://www.umm.edu/altmed/articles/dong-quai-000238.htm
• Office of Dietary supplements: Black cohosh – http://ods.od.nih.gov/factsheets/blackcohosh/
• University of Maryland Medical Center: Black cohosh – http://www.umm.edu/altmed/articles/black-cohosh-000226.htm
• University of Maryland Medical Center. ¨American ginseng.¨http://www.umm.edu/altmed/articles/american-ginseng-000248.htm
• University of Maryland Medical Center: Soy – http://www.umm.edu/altmed/articles/soy-000326.htm