Menopause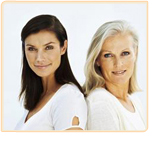 Menopause is a natural process in which menstruation definitively ceases, signaling the end of a woman's reproductive life. Menopause is a natural process in a woman's body, not an illness, but a variety of disturbing symptoms can appear during this transition.
Menopause usually occurs around the average age of 45, and can be diagnosed when a woman has no menstrual periods for 12 successive months.
There are 4 main stages in menopause: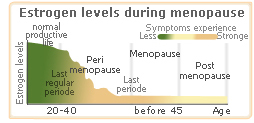 • Premenopause.
• Perimenopause.
• Menopause.
• Postmenopause.
Click here to learn more about menopause.
Causes of menopause
Menopause is mainly caused by declining estrogen levels. The body's inability to maintain balanced hormone levels (menopause) is a natural part of the aging process, although it may also be the result of surgical interventions or endocrine system disorders. Click here to learn more about causes of menopause.
Symptoms of menopause
The symptoms of menopause are caused by fluctuating levels of estrogen, and usually last for the entire menopause transition (until the mid 50s), although some women may experience them for the rest of their lives. Click here to learn more about symptoms of menopause.
Which herb should women try?
Today women are looking for relief from their menopause symptoms with herbs. Phytoestrogenic herbs and non-estrogenic herbs are good in relieving menopause symptoms, but recent studies show that non-estrogenic herbs have no side effects because they help the body to produce its own hormones instead of introducing hormones like the phytoestrogenic ones. Learn more about
non-estrogenic herbs
for menopause.