Ginseng: A History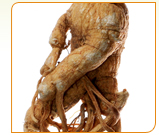 Believed to have been discovered in the mountains of Northern China, ginseng has been known to exist for over 5000 years. Initially first thought to be used as a food, ginseng has been used as a medicinal remedy for over 3,000 years. An Old Chinese canon of medicine states ginseng helps strengthen the soul, brighten the eyes, open the heart and expel evil. Read on to learn about the history of ginseng.
Native Americans and Ginseng
Within America ginseng was used by many North American native nations. The Cherokee, Creeks and Iroquois valued ginseng for its curative powers and life enhancing capabilities. Historians estimate American settlers discovered ginseng in the mid 1700s in New England and by late 1700s ginseng was being sent to China spurring a growing ginseng trade making many merchants considerably wealthy. By the mid 1850s over a half million pounds of the herb was being harvested from America's wild ranges and exported to Asia, however by the turn of the century ginseng was in danger of being extinct due to over harvesting.
In the early 1900s ginseng begun its revival when Eastern farmers began cultivating the herb in small gardens eventually spreading cultivation to the West and woods of Wisconsin. Wisconsin has ideal growing conditions for ginseng and some have labeled this state 'home of the world's finest ginseng root".
Ginseng and the World
A slow growing perennial that prefers growth in the deep forests ginseng's unique properties and popularity have led to the wild version to become over hunter. In Asia, wild ginseng is highly sought after and has been hunted and harvested to near extinction.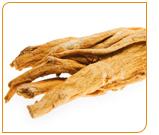 Many people believe cultivated ginseng has slightly different properties than its wild cousin. The Asian species is thought to be the superior compared to the American. The Asian ginseng is thought to have a yang tonic or more warming while the Asian is said to be a yin tonic or more cooling. Both the ginsengs are thought to be capable of strengthening our vital life force or qi.
Remedying everything from cold to menopause ginseng is capable of protecting the body from physical and mental stress and the enthusiasm for the herb only continues to grow. Click here to read more information about ginseng.
Sources
• "Ancient Ginseng History".www.cornermark.com
• "Ginseng: Herbal Remedies". www.health.howstuffworks.com
• "Ginseng". www.kcweb.com
• "Ginseng". www.diet.com