Fitting Herbs into Your Lifestyle to Treat Menopause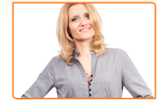 Night sweats, chronic fatigue, vaginal dryness and mood swings - managing menopause can be a constant struggle. To find relief from the many discomforts of menopause, women are turning to natural herbal remedies. Finding which herb is right to combat your symptoms can be a challenge, but it doesn´t have to be.

Learn to recognize which herbs can help combat your menopausal symptoms by reading below.
Dong Quai
Dong quai primarily functions as a tonic in the blood, focusing on the hormonal and immune systems. Available in a variety of forms from pills to powders, dong quai provides many benefits while helping to alleviate a number of menopausal symptoms. Because it contains phytoestrogens, plant compounds which mimic estrogen, this versatile herb helps relieve hot flashes, vaginal dryness, fatigue, hair loss and night sweats. In addition it acts as a mild sedative helping to reduce stress, combat insomnia and stabilize mood swings.
Black Cohosh
Commonly referred to as the "herbal estrogen alternative", black cohosh is widely accepted as the essential herb to help combat menopause symptoms Although how it works is a mystery, black coshosh is believed to have estrogenic effects because it binds to estrogen receptors in the body. As a result this causes estrogen levels to decrease or increase. By introducing plant hormones similar to those made within the body, black cohosh can help to regulate estrogen levels which often become unbalanced during menopause. Used often as an alternative to hormone replacement therapy, black cohosh has been shown to treat a variety of menopausal symptoms such as night sweats, vaginal dryness, depression, digestive problems and hot flashes.
Ginseng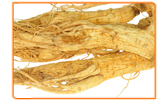 A root of Native America, the Chinese and Koreans, ginseng is believed to help increase life span and improve vitality after frequent use. Favored as a medicinal herb, ginseng´s positive effects include impacting the body on a hormonal level via the compound ginsenosides. Ginsenosides have estrogen-like activity, which act on the vaginal walls to reduce dryness.

For sufferers of menopause, ginseng acts as an "energizer" and is used to treat mental well-being, fatigue, nervousness, hot flashes, depression, weight gain and bladder problems.
Recommendation:
Menopause occurs naturally as women age, but that doesn´t mean it can´t be treated. Natural herbal remedies are a suitable alternative to hormone therapy and can also reduce the risk of unwanted side effects. Click here to read more information about herbs and menopause.