What Are the Health Risks of Using Estrogenic Herbs for Menopause?
If you're seeking natural remedies to your menopausal symptoms, herbal supplements containing phytoestrogens can seem like the next logical step. Before you head to the supplement aisle, however, take a moment to research what you're buying. Though herbal treatments naturally grow in the wild, they can cause some unforeseen side effects. Keep reading to learn more about herbal supplements, phytoestrogens and their side effects.
What Are Phytoestrogenic Herbs?
Though menopausal women have been using herbal remedies to cure symptoms for centuries, it is only recently that women have turned to some herbs for their reported estrogenic properties. Phytoestrogens, compounds similar to estrogen found in some plants, are thought to help correct hormonal imbalances for women going through menopause. Herbs thought to contain phytoestrogens include:
• Ginseng
• Ginkgo biloba
• Dong quai
• Black cohosh
• Red clover
• Soy
While many women have reported the benefits of phytoestrogenic herbs during menopause, little is known about the compounds and how they work in the body. Read on to learn more about the reported side effects of phytoestrogens.
What Are The Health Risks of Using Estrogenic Herbs?
Just because phytoestrogens are naturally found in plants doesn't mean that they don't come with their own risks. Reported side effects of herbs containing phytoestrogens include:
Decreased zinc absorption - Compounds in phytoestrogens attach to zinc in the body, lessening the element's absorption in areas where it is needed. This can lead to possible damage of bones, skin, muscles, eyes and kidneys.

Poor reactions with hormone treatments - If you're taking birth control pills or HRT, you'll want to stay away from phytoestrogens. The compounds may react poorly with your medications or render them ineffective.

Possible links to cancer — Some studies suggest a link between heightened phytoestrogen levels and increased cancer cell growth. This risk appears most apparent in rates of breast cancer. Further studies are needed to support or refute this link however.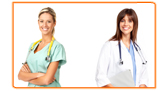 Balancing the risks and benefits of phytoestrogens will depend on your own unique physiology. Talk to your doctor if you have concerns about introducing herbal supplements into your diet. Keep reading to learn more about alternatives to estrogenic herbs.
What Other Products or Changes Can Help Me Relieve My Menopausal Symptoms?
Fortunately, if estrogenic herbs aren't right for you, you do have other options. You'll likely see immediate benefits from eating right and exercising. If lifestyle changes don't do the trick however, non-estrogenic herbs like macafem may help you find relief. These herbs work by stimulating the glands that produce female hormones, helping to balance your production of estrogen and progesterone. Click the following link to learn more about non-estrogenic herbs.