Phytoestrogen vs. HRT: Which is More Effective in Treating Menopause?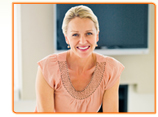 What's behind those symptoms of menopause that keep you up at night? For the vast majority of women, it's declines in estrogen -that all- encompassing hormone responsible for female reproduction. Off-balanced for the first time since puberty, the hormone is causing untold disruptions throughout your body, affecting you profoundly physically and emotionally.
Fortunately, women today have options when it comes to resetting their hormonal balance. There are countless medications and herbal supplements on the market designed to boost estrogen levels in your body, offsetting many of your menopausal symptoms. The only question is which treatment option to choose. Keep reading to learn more about the differences between two of these options, Hormone Replacement Therapy (HRT) and herbal remedies containing phytoestrogens, and which is best suited to you.
Weighing Your Options
Many women struggle over their treatment options during menopause, and for good reason: while many treatments can be effective, they also come with their risks. This is especially true for both HRT and estrogenic herbs. But how are the two options different?
HRT: The Effective, But Risky, Menopause Treatment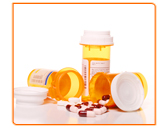 Encompassing all prescribed medications that directly boost hormonal levels during menopause, hormone replacement therapy, or HRT, exploded in popularity in the 1990′s, when women flocked to the treatment for its high effectiveness in treating menopause. The medications suffered a major setback in 2002, however, when a landmark study linked them with a significantly increased risk of breast cancer.

Today, HRT is still highly popular, but it is often prescribed in lower doses and over a short term, one- to two-year period, rather than into and beyond post-menopause. Women taking HRT need to understand the risks, along with the proven benefits.
Phytoestrogens: Unproven, But Increasingly Popular
Since the risks of HRT were made known, estrogenic herbs -or herbs containing a compound known as phytoestrogens- have been touted by many health magazines and websites as a safer, yet effective alternative. That said, little is known about these compounds, how they work in the body, or whether they are actually effective in treating estrogen imbalance during menopause. Herbs thought to contain phytoestrogens include Black cohosh, Ginkgo biloba, Dong quai, Red clover, Ginseng and Soy.
Making a Decision
Unfortunately with menopause, there are no silver bullets. No treatment option is going to be perfect. If you still don't know what treatment option is right for you, talking to a medical professional can help you to clarify your thoughts and determine the best path to menopause relief.
Click the following links to learn more about natural hormones and herbs for menopause.