3 Ways to Use Ginkgo Biloba to Fight Your Menopause Symptoms
In recent years, ginkgo biloba has become a frontrunner amongst herbs used to treat menopause symptoms. This is because the plant contains two chemicals– flavonoids and terpenoids-that help fight memory loss and improve circulation. The herb has also been used to treat the emotional symptoms of menopause. Read on to learn about three easy ways to incorporate ginkgo biloba into your daily activities.
Best Practices for Using Ginkgo Biloba
For women suffering from the symptoms of menopause-such as mood swings and depression-ginkgo biloba is recommended for relief. Gingko helps fight menopause symptoms by fighting off free radicals in the body which may tamper with DNA or even cause cell death. Used in tablet or capsule form, drunk as a tea or applied to the skin, the antioxidant properties of ginkgo biloba help neutralize and/or prevent some of the damage caused by these free agents. Keep reading below to learn about three popular uses of ginkgo biloba.
1.) Tablets or Capsules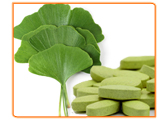 The fastest and easiest way to introduce ginkgo biloba into your lifestyle is in tablet or capsule form. These can be taken with meals. The dosage varies depending on the brand, so make sure to check the recommended dosage on the manufacturer label for safety. Tablets provide faster absorption of active ingredients than capsules.
2.) Tea
For women experiencing the emotional symptoms of menopause, a cup of ginkgo tea is both a good way to destress and provide the body with essential antioxidants that bolster the immune system. The tea can be purchased in bags or homemade using 1 oz. of dried ginkgo biloba leaves. Tea-drinkers are also recommended to sip 2-4 cups of ginkgo daily to reap maximum benefits.
3.) Skin Products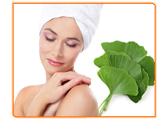 In addition to fighting memory loss and the symptoms of menopause, ginkgo biloba is known to boost collagen and fibroblast formation. In order to promote healthy skin, ginkgo products should contain a concentration of ginkgo biloba extract (GBE) that is within the range of 0.01% to 5%. Results are amplified when combined with vitamin E, propylene or carvone.
Recommendation:
Ginkgo biloba is more than just a menopause-fighting herb. Also known to help improve memory, the plant is commonly prescribed for aging patients that suffer from memory lapses, dementia or Alzheimer's disease. Click here to read more information about the benefits of ginkgo biloba.