Dong Quai 101: The Best Forms to Use During Menopause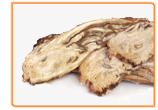 In recent years, taking herbal supplements to treat the symptoms of menopause has become a popular alternative to HRT, an often costly and risky option for women. Dong quai, a herb native to Japan, Korea and China, is a mild sedative and stress reliever containing phytoestrogens, which mimic the properties of estrogen when introduced to the female body.

Dong quai has been used to treat menopausal symptoms such as mood swings, hot flashes and vaginal dryness.
Top 5 Ways to Use Dong Quai
Dong quai can be taken in a variety of forms to help treat your menopausal symptoms. Keep reading below to learn more about ways to introduce Dong quai into your lifestyle.
Dong Quai Tea
Drinking Dong quai tea 2-4 times daily is a fast and convenient way to reap the benefits of this phytoestrogenic herb. In addition to helping relieve your menopausal symptoms, herbal teas also contain antioxidants and help bolster your immune system.
There are plenty of tea companies that offer ready-made packets of Dong quai tea. The University of Maryland Medical Center suggests preparing homemade Dong quai tea by putting one teaspoon of the herb in hot water, allowing it to steep covered for 5-10 minutes for leaf or flowers and 10-20 minutes for roots.
Dong Quai Dried Herb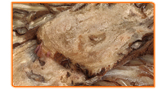 As a dried herb, Dong quai can be consumed raw by steaming the root for a few minutes and cutting it into thin slices. The slices should be dried in a warm place for approximately 24 hours and then stored in a dark jar. Eat 1-2 pieces daily.
According to the University of Maryland Medical Center, dried Dong quai root can be boiled or immersed in wine before consuming.
Dong Quai Capsules
As a powdered herb available in capsules, Dong quai´s dosage can vary depending on the brand. Be sure to check the recommended dosage on the manufacturer label for safety.
Dong Quai Root Tincture
Dosage varies depending on brand. Popular recommendations are to place 15-30 drops of Dong quai root tincture in water or juice 1-3 times daily.
Dong Quai in Topical Varieties
Topical preparations of Dong quai root can be applied directly to the skin. 10 to 15 drops of diluted essential oil may be used to treat skin irritations. Dong quai has also been used in combination with damiana, saw palmetto, green oats and gotu kol to create topical creams that boost libido.
Now that you know more about ways to use Dong quai, learn more about Dong quai's benefits and side effects. Click here for more information about Dong quai and menopause.