Herbal Supplements for Menopause

This website is designed to help clear up any queries and dispel any myths associated with the perceived benefits/side effects of using herbs to relieve the symptoms of menopause. In doing so it will also outline some of menopause´s causes, stages and symptoms in order to show how different types of herbs (both phytosetrogenic and non-estrogenic) can effectively alleviate menopause symptoms. Read the following information in order to discover the best herbal supplements for menopause.
What is menopause?
Menopause refers to the final menstrual period in a woman´s life. It marks the end of her reproductive years in a similar way that the first menstrual period, beginning at puberty, marked the start. As a woman begins to approach menopause, the production of hormones such as estrogen in the ovaries starts to falter, eventually to a level where menstruation ceases altogether.
As a result of the change in hormonal levels women can suffer a variety of symptoms associated with menopause. Some of the most common symptoms include hot flashes and night sweats, aches and pains, forgetfulness and depression.
Types of herbal supplements for menopause
The major types of herbs that exist for combating menopause symptoms can be divided into two groups; phytoestrogenic herbs and non-estrogenic herbal supplements. The former group contains phytohormones (components similar to the body´s hormones), while the latter group serves to stimulate the body´s own hormonal production.
Phytoestrogenic herbs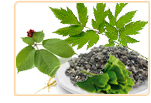 Phytoestrogenic herbal supplements for menopause are plants containing herbal components called phytoestrogens, which have chemical structures similar to human estrogen.
There are several herbs which are good sources of phytoestrogens, many of which are currently available as herbal remedies or supplements. Phytoestrogenic herbs can help people who are suffering from hormone related ailments, as they mimic the body´s own source of the estrogen hormone. Although phytoestrogens are found in all plants they commonly only appear in large doses in herbs such as black cohosh, ginseng, soy, red clover and dong quai.
Click on the following link to read more about phytoestrogen herbs.
Non estrogenic herbs

As the name suggests, non-estrogenic herbs do not contain any sort of chemical structure similar to estrogen. Whilst there are many varieties of this type of plant only few non-estrogenic herbs have the nutrients that can stimulate the endocrine system into producing and balancing hormonal levels. Sadly, even fewer non-estrogenic herbs have been the subject of serious studies that can confirm these claims. However, some have, and the exact way in which these herbs stimulate the endocrine system can be seen at this link.
What herbal supplement for menopause should I use?
People are always looking for new ways to improve their health, and more and more they are turning to natural remedies rather than pharmaceutical drugs. This is the reason why herbal supplements are gaining in popularity.
Much of the research on the therapeutic applications of various herbs and herbal extracts presents strong evidence that taking herbal supplements in conjunction with a healthy diet and lifestyle can be beneficial. Therefore, many people use natural health supplements to treat various health conditions as well as to promote general well-being. To learn more about specific herbal supplements to treat menopause symptoms click here.